ESCORTED RIDE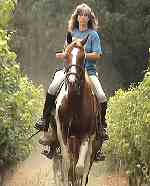 Eveline is Dutch and a trained horse riding guide (ATE).
She will be delighted to accompany
you along the trails of the Armagnac.
Whichever tour you chose...
Whichever tour you chose, Evelien will guide you with ease through the Armagnac countryside.

You can simply relax and enjoy the beautiful scenery without the worry of either getting lost or having to deal with any difficulties on the route.

In your saddle-bags you carry a picnic lunch, provided at your departure each morning (except for the "Château de Buros" ride), and some personal effects. Each day your luggage will be transferred, by car, to your new lodgings.

Evelien, a qualified and experienced guide for trekking on horse, speaks fluent French and Dutch, and very good English.
www.horse-trek.com - EN ARMAGNAC - YEAR - EN TENAREZE - www.horse-trek.com