THE TENAREZE TOUR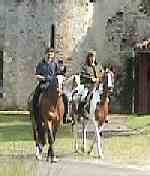 The Tenareze is a beautiful part of the Armagnac region.Following the footsteps of King Henry IV we have created a new trek which will take you through the heart of the Tenareze and visit the circular bastide of Fources and the fortified village of Mézin.

The trek will take you six days and you will be accomodated for seven nights.The first and last nights will be spent at the Domaine de Marsan where you can enjoy a swim in the pool.
The other nights will be spent at gites along the way.Here you will be warmly welcomed and eat a meal which will normally be one of the traditional meals of our region.The gites are quiet and relaxing.

The trek will take you through beautiful and varied countryside.

You will pass through forests, lush meadows alongside streams, rivers and small lakes. The countryside is rolling with gentle valleys each of which has its own charms and views.

The trek can be made with or without a guide.The conditions of this offer are the same as for the other treks so why not come and explore the Tenareze with us.
Discover the Tenaraze with us...
PRICES FOR THE TENAREZE TOUR
Price per person
5 days riding / 6 nights: €
Should you wish to alter the duration of your holiday please contact us or



CHOOSE YOUR TYPE OF RIDE
www.horse-trek.com - EN ARMAGNAC - YEAR - EN TENAREZE - www.horse-trek.com